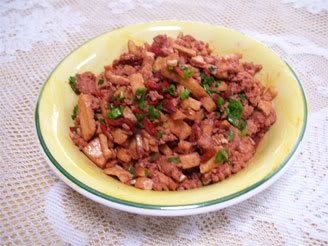 Ingredient

200gm minced meat (mix with 2 tbsp of tap water first)
4 pieces of taukwa
4 pieces of garlic
2 pieces of fermented beancurd (shanghai brand)

1 stalk of spring onion for garnishing

Seasoning:
1 tbsp of crystal sugar
200 ml of chinese cooking wine (huatiao wine)

Method
1. Cut the taukwa into small cube then chop garlic into fine pieces.

2. Heat up the wok with 1 tbsp of oil, add taukwa to fry, until taukwa slighty crispy, remove and set aside

3. Add in the minced meat to fry until it about slighty cooked, add in smashed fermented beancurd, to stir fry, then add in chopped garlic, add in crispy taukwa to stir fry, until taukwa well mixed, add in 1 tbsp of crystal sugar, then let it cook.

4.Once crystal sugar melt, add in 200 ml of chinese wine, let it cook, until all the wine is absorbed to the meat & taukwa, you can smell of the fragrant of the fermented beancurd, off fire, garnish with spring onion and serve.