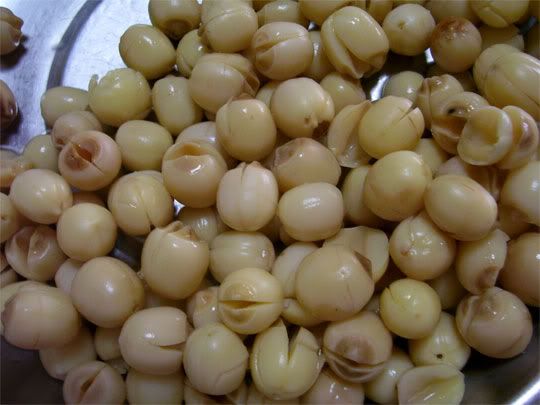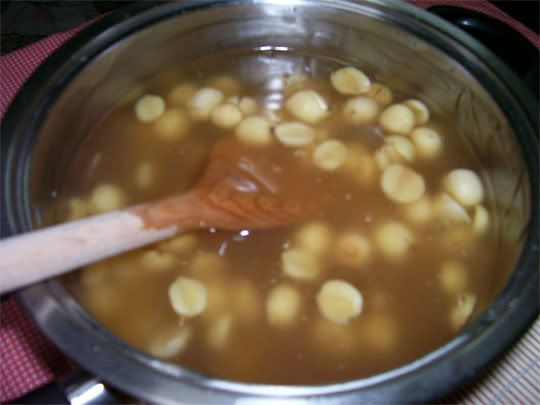 Ingredients:
300 gm lotus seed
2 tsp bicarbonate soda
230-250 gm sugar (depend how sweet u wan)
1 litre of water

Paste mix:
75gm potato flour
125ml of water

Method:
*1. Bring water to boil, add in lotus seeds and 2 tsp bicarbonate soda, boil for 10 mins. Off fire, do not open the lid then let it soak for half an hour. Wash the lotus seeds under tap water for 3 times and drain.

2. Steam lotus seed for 30 mins. Leave it a side. Dissolved 2 tbsp of sugar in a pot, then fry it, add some more sugar gradually, continue to fry until the sugar turn hard and brownish. Add 1 litre of water to the brownish hard sugar, do not sitr, let it cook under high fire.

3. Once the sugar is dissolve, add in the paste mix, stir well, then let it boil until you see bubbles. Add in steamed lotus seeds, stir well. Ready to serve.
*Note: alternatively you may put hot water to soak the lotus for half an hour, change the water every half an hour, for 3 times, the last time will hv to bring it to steam with the hot water for half an hour. After steaming, drain away the water set aside, then can proceed to prepare the sticky paste.