Steamed Pomfret with Black Soya Beans
Ingredient
1 pc (abt 700g) of pomfret or seabass
150g minced pork
Seasoning (for fish)
4 slices of ginger
2 stalk of spring onion
1/4 tsp of pepper
1 tbsp of chinese wine (hua tiao)
1/2 tsp salt (put at the last 5min before steaming)*
Gravy for garnishing fish (in a bowl)
2 tbsp light soya sauce
2 1/2 tsp sugar
1 tbsp chinese wine (hua tiao)
1/2 tbsp sesame oil
4 to 5 tbsp water
Method
1. Remove the scale and internal part inside the fish then wash it clean.
2. Slice the fish slanting into 1 slice or 2 slices, so tat the meat will slightly curve after steaming.
3. Steaming time for the fish is 6 mins with fire later 1 min without fire, to keep the fish in the steamer. AFter 1 min, can remove the fish from the steamer.
4. Steaming of different kind of fish require at different time:
1 kg of fish steaming time is 12 mins e.g. grouper
Pomfret, Seabass - 6 mins
Batang fish deboned - 7 mins
Fish head - 12 mins
'Ngoh' fish - 5 mins
5. Season the fish by puting 2 slices of ginger and 2 pieces of spring onion into the fish gill.
6. Pour in the seasoning onto the fish, then rub over the fish body, no need to pour the seasoning into the fish sliced portion. REMEMBER do not add salt now. Then set the fish aside for 30 mins.
7. Prepare gravy in a bowl. Put in light soya sauce, sugar, wine then stir them well. Add in seasame oil and water to stir and mix well in a bowl then set aside.
8. Once wok is hot, put in 2 tbsp of oil, put in spring onion (white portion without roots) to fry and remove them, put into a bowl set aside.
9. Wok is still oily, add ginger, onion to fry and stir well. Add chilli, fry a while, add black soya beans to it. Fry until fragrant, scoop up and off fire.
10.Add 1 to 1 1/2 tbsp of water into water, turn on the fire, put in the minced meat to fry well until the meat looks cooked and add item 9 to stir mix well, off fire, add in spring onion to stir together.
11. 5 mins before steaming the fish, sprinkle a bit of salt on top of the fish, and pat a bit.
12. Prepare a plate with a pair of wooden chopsticks across each other on the plate.
13. Put the fish to rest on the chopsticks.
14. Pour the item 10 on top of the fish then put in spring onion also the gravy on the fish and the rest all over the fish.
15. Once steamer is at boiling point. Put in the fish to steam.
16. After steaming time is over, remember to let the fish rest in the steamer for 1 min.
17. Remove the fish from steamer, pour in 1/2 to 1 tbsp of spring onion oil on the fish. Then remove the fish from steaming plate to a serving plate.
18. Ready to serve.
Steamed Toufu or Beancurd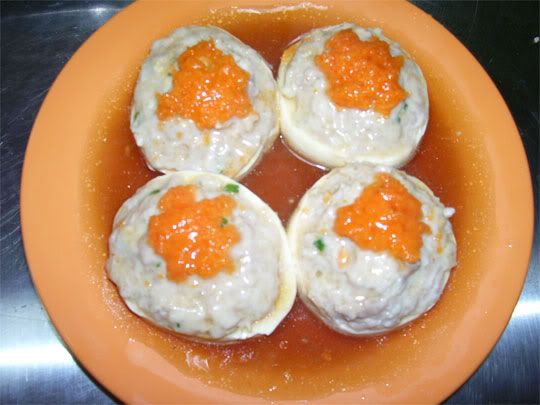 Ingredient:
4 pcs of Round beancurd cut into halves (can buy from yong tau food stall)
250gm minced meat (wu hua rou)
75gm of fish paste (buy from yong tau food stall)
for frying:
1 tbsp of dried prawns (wash & chop fine)
1 pc of shallot (chop fine)
1 pc of garlic (chop fine)
1 stalk of spring onion (chop fine)
Seasoning sauce:
1 tsp light soya sauce, 1 tsp sesame oil, 1/4 tsp pepper, a bit hua tiao wine, 1/2 tbsp cornflour.
Garnishing
1/2 pc of carrot (chop very fine)
Gravy sauce - for garnishing (mix all into a bowl)
3/4 bowl of water or stock
1/2 tbsp oyster sauce
1/2 tsp light soya sauce
1/4 or 1/2 tsp dark soya sauce
1/4 tsp sugar
1/4 tsp pepper
1/4 tsp sesame oil
Thickening: (put all into a bowl)
2/3 tbsp of potato flour
1/2 tbsp of gravy sauce
Method:
1. Cut the ball toufu into halves, cut of the sharp edge of round shape, then put them onto a white towel to dry them.
2.Let the wok hot first, pour in 1 tbsp of oil, once oil is hot, off fire.
3. Put in the chopped shrimp, turn on fire, but must be low fire, to fry the shrimp until fragrant, add in onion & garlic to fry, once well cooked, off fire, remove from wok, let them cool in a plate.
4. To remove the smell of the minced pork: put the minced pork into a vegetable drain basket, spread them evenly, then bring over to let the tap water run thru, then let it drain dry itself.
5. Once drained, put them into a mixing bowl, add in fish paste to stir, then add in well-cooled shrimp mixture and stir well, use metal spoon to mix them well.
6. Prepare seasoning sauce, add in according as stated. Then mix them well with the fish & meat mixture, use metal spoon to stir it well.
7. Finally, add in chopped spring onion. Leave it aside.
8. Turn the toufu upside down, you will realise the toufu abit dry, then use a chopstick to lightly poke a few hole on the round shape. Sprinkle some potato starch onto those surface of the toufu. then put in the mixed-well fish & meat on top of it.
9. Use tap water to wet your finger, while arranging the fish & meat onto the toufu, shape it nicely, then add in chop-fine carrot as garnishing.
10. Put some oil on the tray, then put in the well-prepared toufu on the tray.
11. Prepare steamer water to boil, once water is at boiling temperature, put in the tray with toufu to steam for 12 mins.
12. While steaming, prepare the gravy sauce into a bowl.
13. Let the wok hot, add 1 tbsp oil, then pour in the gravy sauce to cook until boil.
14. At boiling bubbles, pour in the thickening and stir well, off fire.
15. After 12 mins, remove the steamed toufu from the steamer, then put the steamed toufu into a plate, pour in the cooked gravy over the toufu for serving.