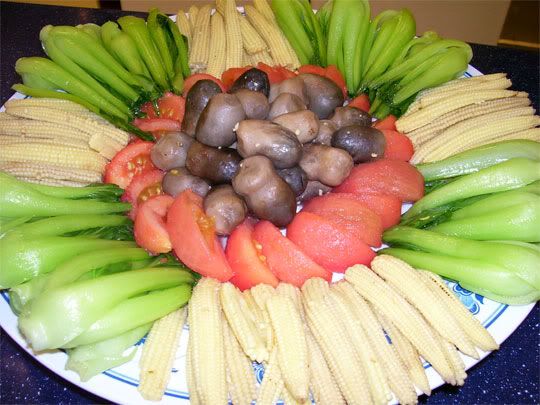 Ingredient:
500gm small chinese cabbage (xiao bai cai)
200gm young corn
1 can of straw mushroom
2 pieces of tomatoes
Gravy:
1 bowl of stock (1 bowl water + 1 tsp mushroom seasoning)
1 tsp salt
1/2 tsp sugar
1/2 tsp sesame oil
Thickening (well-mixed in a bowl):
1 tbsp cornflour
1 tbsp water
Stewing sauce:
2 bowls of stock (2 bowl of water + 1 tsp of mushroom seasoning)
1 tsp salt
Method:
1. Wash & cut the young corn into half, wash and cut the small chinese cabbage into half, remove the sharp edges.
2. Prepare the gravy and set aside.
3. Boil water in a wok, put tomatoes in it, once water is boil, off fire, scoop up the tomatoes and soak in tap water, then remove the tomatoes skin and cut into 4 parts, cut it like orange slice-shape.
4. Hot wok, cold oil. Once oil is hot, sprinkle 1/2 tbsp hua tiao wine, add the stewing sauce then put in the young corn, let it boil for 1 min, remove and set aside.
5. While the wok still hot, put in the straw mushrooms, let it cook for a while then once boiled, scoop it up and set aside.
6. Wok still got gravy, add oil, let it boil, add in small chinese cabbage to cook.
7. Stir in circular form, once its change colour, scoop up and soak in tap water, then drain dry, and set aside.
8. Put in the skinless tomatoes to parboil a while then scoop up. Pour away the water from the wok.
9. Display all the vegetables in a big plate, young corn on 4 side, small chinese cabbage also on 4 side around the plate, tomatoes put as a circle in the centre, then centre, put in the straw mushroom.
10. Heat up the wok, add in 2 tbsp of oil and sprinkle a little wine, pour in the gravy and wait till boil.
11. Once it boil, add thickening, and dish up.
12. Pour them over the plate of vegetables, and sprinkle a little pepper on top of the vegetables.